Seaworld Bath Rugs
Seaworld Bath Rugs
445 - Quickly get a phone representative on the same page you are on now by giving them the quick link ID 445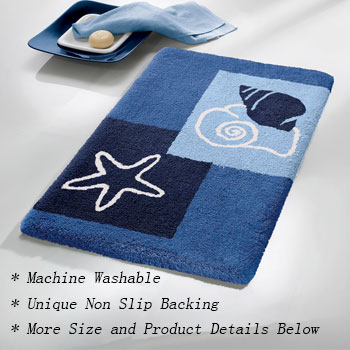 navy blue
Additional Product Images Gallery
Click on an image to view a larger version. Larger images replace the main image shown above.
Click Here: Seaworld Bath Rugs Details
Stock levels are intended as a general guideline, not a guarantee and do not take into account pending orders. More stock is typically available in Europe. Orders requiring stock from Europe usually ship in 2-12 business days.
Coordinated Families
Product Details
(
back to the top
)
Seaworld Bathroom Rugs
Design:
Accent your bathroom with this stylish and affordable bath rug.
Very soft medium pile 20mm / .79in with high pile density.
Designed and produced in Germany
Unique non slip backing. See backing details below.
Machine wash and dry. See rug care details below.
Rug Fiber Qualities:
Exceptionally soft, 100% polyacrylic yarn
Good warmth retention
Mildew proof
Very durable
Easy care polyacrylic yarn
Unique Non Slip Backing:
Anti-slip backing will not be damaged or worn out if used with underfloor heating.Each piece is made with a high density of stitches
Durable, resilient backing, resistant to cracking from washing and regular care
Provides non slip properties on most surfaces
Rug Care:
Easy care
Machine wash warm 104F 40C, using colorfast, mild action detergent
Hang or tumble dry
Do not iron, bleach or dry clean
(
back to the top
)