Energy Non Slip Dispenser
Energy Non Slip Dispenser
363 - Quickly get a phone representative on the same page you are on now by giving them the quick link ID 363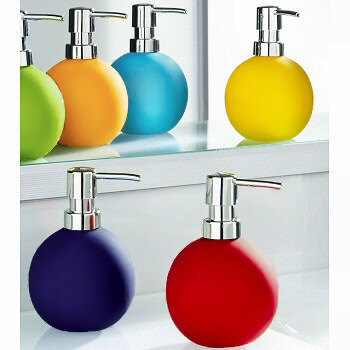 anthracite grey

orange

white
Additional Product Images Gallery
Click on an image to view a larger version. Larger images replace the main image shown above.
Click Here: Non Slip Porcelain Accessory Details
Stock levels are intended as a general guideline, not a guarantee and do not take into account pending orders. More stock is typically available in Europe. Orders requiring stock from Europe usually ship in 2-12 business days.
Coordinated Families
Product Details
(
back to the top
)
Energy Porcelain Bath Accessories
Round soap or lotion dispenser with a non-slip rubberized matte coating over porcelain.
Designed and produced by well-known German brand
Kleine Wolke
, established in 1968, and is backed by their quality guarantee.. The weight of these soap dispensers gives you the immediate feeling of high quality and you cannot beat the FUN colors.
Color Options:
Red: Deep red dispenser with non slip matte finish. Would look fantastic with any of our deep red bath rugs.
Orange: Bright orange with a hint of yellow. Really will add a nice eye catching punch of color to the top of your vanity.
Spring Green: Spring time all the time! Stunning yellow green soap or lotion dispenser. Fantastic with our Keno or Relax bath rugs.
Turquoise: Beautiful blue like a tropical sea. The Venice rug in aqua is a great match along with the Caro in aqua.
Sorrento Azure Blue: Deep blue with a hint of purple.
Anthracite Grey:
(
back to the top
)