Bamboo Bath Rug
Bamboo Bath Rug
359 - Quickly get a phone representative on the same page you are on now by giving them the quick link ID 359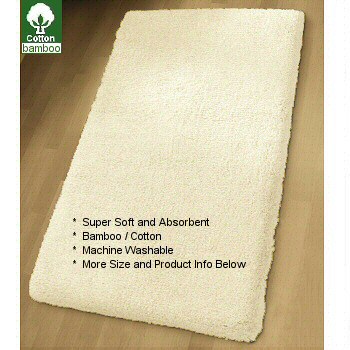 natural

savannah beige
Additional Product Images Gallery
Click on an image to view a larger version. Larger images replace the main image shown above.
Click Here: Bamboo Rug Details
Stock levels are intended as a general guideline, not a guarantee and do not take into account pending orders. More stock is typically available in Europe. Orders requiring stock from Europe usually ship in 2-12 business days.
Coordinated Families
Product Details
(
back to the top
)
Download Manufacturer Data Sheet (PDF)
Bamboo Bathroom Rug
Design:
We thought cotton was soft but the combination of sustainable bamboo and cotton is out of this world. It is SUPER soft.
Pile height is 30mm / 1.18in.
Absorbs better and dries more quickly.
Designed and produced by well-known German brand Kleine Wolke, established in 1968, and is backed by their quality guarantee..
Machine wash and dry. See care details below.
Our bamboo bath rugs are made from sustainably grown bamboo and cotton. Bamboo has natural antibacterial properties. Incorporating soft natural cotton fibers produces a luxurious bath rug.
Unique non slip backing. See non slip backing details below.
Machine wash and dry. See rug care details below.
Color Options and Descriptions:
Natural: Stunning light cream color.
Savannah Beige: Soft medium tone brown.
Rug Fiber Qualities:
Bamboo / cotton blend woven into a soft dense pile.
Mildew proof
Long wearing, high quality, heavy weight rug
Unique Non Slip Backing:
Non slip latex applied to backing
Durable, resilient backing, resistant to cracking from washing and regular care
Unique latex application process provides non slip properties on most surfaces
Rug Care:
Easy care cleans very well
Machine wash warm 86F 30C, using colorfast, mild action detergent
Hang or tumble dry
Do not iron, bleach or dry clean
Organic cotton:
The main advantage of organic cotton cultivation is that there is no use of pesticides or herbicides. Organically farmed cotton can be grown using methods and materials that have minimal negative impacts on the environment, thereby maintaining soil fertility. Furthermore, the amount of water required during cultivation is lower than in other conventional methods. Organic cotton textiles contain fewer additives and therefore cause less skin irritation and allergies. Like other cotton textiles, they are extremely absorbent and durable.
(
back to the top
)