Wire Shower Curtain Rod Kit
Wire Shower Curtain Rod Kit
321 - Quickly get a phone representative on the same page you are on now by giving them the quick link ID 321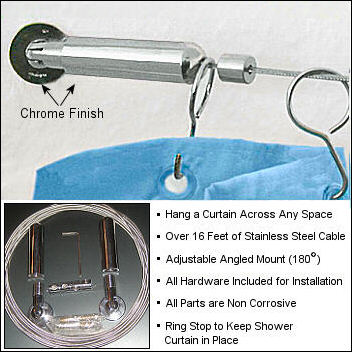 chrome s hooks

non corrosive stainless steel cable system
Additional Images
You can view larger images of alternative colors by clicking on a color swatch above.
Click Here: Wire Shower Curtain Rod Details
Coordinated Families
Product Details
(
back to the top
)
Wire Shower Curtain Rod Kit
Shower Curtain Rod or Room Divider :


Hang a shower curtain and liner or room divider curtain across any space. The stainless steel non corrosive tension cable in the kit is 16.4 feet in length.


This Euro-style tension shower curtain rod is a great solution for angled or non angled walls.


The multi position angle mounts pivot 180 degrees. This German made wire shower rod is both simple and functional.


Mounting and Tension :


All mounting hardware is included. See installation instructions in the help section.


To go directly to the installation instructions please copy this link into your browser: https://www.vitafutura.com/wire_curtain_rod_help.asp


This unique design includes machined chrome drums that anchor the tension cable inside the bullet shaped mounting covers. You should NOT experience sagging over time, but if this does occur it is EASY to re-tighten the wire rod.


The bullet shaped mounting covers are 1/2 inch in diameter and extend 3in from the wall.


All the pieces in the kit are non corrosive and heavy duty.


Further Assistance :


If you need further assistance please feel free to contact us toll free at 1-800-895-2116.
(
back to the top
)