S Hook Shower Curtain Rings
S Hook Shower Curtain Rings
322 - Quickly get a phone representative on the same page you are on now by giving them the quick link ID 322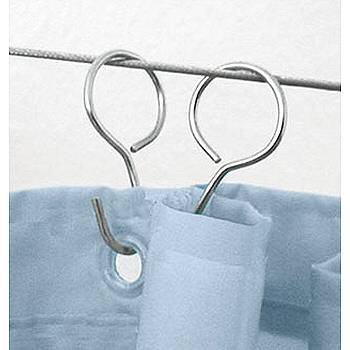 chrome s hooks

non corrosive stainless steel cable system
Additional Images
You can view larger images of alternative colors by clicking on a color swatch above.
Click Here: S Hook Shower Curtain Ring Details
Coordinated Families
Product Details
(
back to the top
)
S Hook Shower Curtain Rings
Durable long wearing non corrosive chrome S hook shower curtain rings.


12 pieces in a set. Standard tub width shower curtains have 12 eyelets.


Recommended use with wire shower curtain rods. Ring diameter is .75in.


Designed and produced by well-known German brand Kleine Wolke, established in 1968, and is backed by their quality guarantee..


Easy to install. Just hook into the eyelet of your shower curtain.


(
back to the top
)