Footy PVC Free Safety Mats
Footy PVC Free Safety Mats
340 - Quickly get a phone representative on the same page you are on now by giving them the quick link ID 340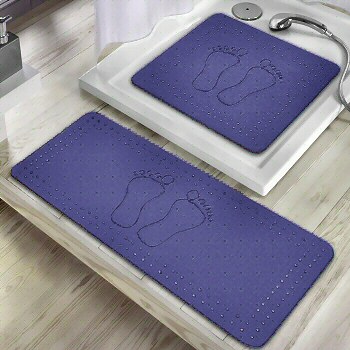 blue

grey

kiwi green

orange

ruby red

sand beige
Additional Images
You can view larger images of alternative colors by clicking on a color swatch above.
Click Here: PVC Free Rubber Safety Mat Details with Suction Cups
Stock levels are intended as a general guideline, not a guarantee and do not take into account pending orders. More stock is typically available in Europe. Orders requiring stock from Europe usually ship in 2-12 business days.
Coordinated Families
Product Details
(
back to the top
)
Footy PEVA Safety Mat
This anti slip, 100% PVC free natural rubber safety tub mat is designed and made in Germany with suction cups and drain holes.
Made from a natural elastic material Caoutchouc obtained from the latex sap of trees especially trees of the genera Hevea and Ficus. This is a non vinyl and non chlorine based product.


Very comfortable and durable natural rubber construction with drain holes around outside of the design.


The design in the center is an imprint of two feet. Very cute! Great non toxic safety mat for kids and adults.


PEVA - non vinyl, non chlorine based product eco friendly natural rubber safety mat.


Machine washable in warm water with mild detergent.


Suction cups cover the entire back side for excellent non slip capability. Great suction on smooth surfaces.


Easy care. Shake and hang dry after each use to help resist mold and mildew.
(
back to the top
)