Mohn Textile Shower Curtain
Mohn Textile Shower Curtain
593 - Quickly get a phone representative on the same page you are on now by giving them the quick link ID 593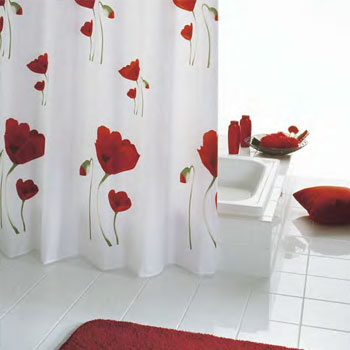 red
Additional Product Images Gallery
Click on an image to view a larger version. Larger images replace the main image shown above.
Click Here: Mohn Textile Shower Curtain Details
* Stock levels are intended as a general guideline, not a guarantee and do not take into account pending orders. More stock is typically available in Europe. Orders requiring stock from Europe usually ship in 2-12 business days.
Coordinated Families
Product Details
(
back to the top
)
Mohn Textile Shower Curtain
This shower curtain is designed in Germany and features the following:
Designed by Ridder in Germany. Ridder is a family-owned company established in 1946. They offer a high quality standard, and a 3 year quality guarantee
Red beautiful flowers on a white background.
This elegant shower curtains gives you a natural look in your modern and fashion bathroom.
12 reinforced eyelets
Environmentally friendly, 100% polyester and non chlorine based product
Easy care hand wash in warm water with mild detergent and hang dry
(
back to the top
)