Phoenix Bath Accessories
Phoenix Bath Accessories
581 - Quickly get a phone representative on the same page you are on now by giving them the quick link ID 581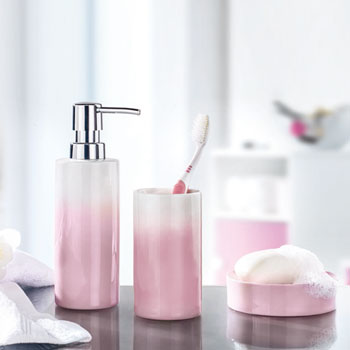 alga green

crocus pink

ice blue
Additional Images
You can view larger images of alternative colors by clicking on a color swatch above.
Click Here: Phoenix Bath Accessory Details
Stock levels are intended as a general guideline, not a guarantee and do not take into account pending orders. More stock is typically available in Europe. Orders requiring stock from Europe usually ship in 2-12 business days.
Coordinated Families
Product Details
(
back to the top
)
Phoenix Bath Accessories
These beautiful and elegant bath accessories with smooth gradient colors are ideal bath set for ultra-modern bathrooms. Use them to add visual impact to your bathroom!
These accessories are made of beautiful and durable porcelain.
Designed and produced by well-known German brand Kleine Wolke, established in 1968, and is backed by their quality guarantee..
Available Sizes:
Tumbler: 2.44*4.48in; This piece can also be used as a toothbrush holder.
Soap Dispenser: Durable shiny chrome pump head attaches to the 2.4*7.56in body of the soap dispenser.
Soap Dish: 4*1.18in oval dish.
Toilet Brush Set: 4.4*15.94in toilet brush set; The brush head is hidden inside.
(
back to the top
)