Mandala Round Bath Rugs
Mandala Round Bath Rugs
159 - Quickly get a phone representative on the same page you are on now by giving them the quick link ID 159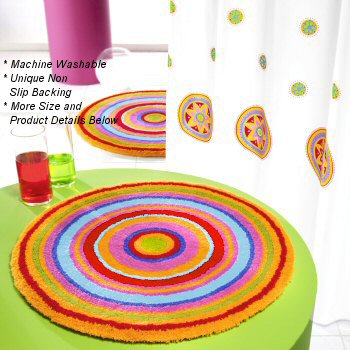 multicolour

taupe

turquoise
Additional Product Images Gallery
Click on an image to view a larger version. Larger images replace the main image shown above.
Click Here: Mandala Bath Rug Details
Stock levels are intended as a general guideline, not a guarantee and do not take into account pending orders. More stock is typically available in Europe. Orders requiring stock from Europe usually ship in 2-12 business days.
Coordinated Families
Product Details
(
back to the top
)
Mandala Bath Rug
Design:
Stylish vibrant multi color round rugs available in saffron orange multi-color.
Quality bath rug with a medium height pile 20mm / .79in
Designed and produced by well-known German brand Kleine Wolke, established in 1968, and is backed by their quality guarantee.. Individually tufted and made of long wearing, durable polyacrylic yarn.
Unique non slip backing. See non slip backing details below.
Machine wash and dry. See rug care details below.
Color Options and Descriptions:
Saffron: Saffron orange is the base color for this fun rug. Other colors include key lime green, light blue, red, warm pink and dark blue rings. Coordinated lid cover is solid saffron orange.


Taupe: What a great way to have a round rug with a fun design and a timeless color scheme. The color range includes taupe : greyish brown, light taupe, light and dark steel grey and snow white. Coordinated lid cover: is solid taupe.


Turquoise: Keeping up with the bathroom color trends is easy with this round bath rug. The color range blue turquoise, light blue, bright yellow green, moss green and snow white. Coordinated lid cover: is solid turquoise blue.
Rug Fiber Qualities:
Exceptionally soft, polyacrylic yarn
Good warmth retention
Mildew proof
Very durable
Easy care polyacrylic yarn
Elongated Lid Cover:
Mandala elongated lid covers are a solid color and coordinate with the base color of each rug swatch.
If your elongated lid is at least 17 inches long and no more than 18.5 inches long our elongated lid covers will work for you. They have a drawstring design allowing the lid cover to conform to your toilet lid.
Unique Non Slip Backing:
Non slip clear latex applied to woven rug backing
Durable, resilient backing, resistant to cracking from washing and regular care
Unique latex application process provides non slip properties on most surfaces
Rug Care:
Easy care
Machine wash warm 86F 30C, using colorfast, mildaction detergent
Hang or tumble dry
Do not iron, bleach or dry clean
(
back to the top
)