Wave Bath Mats
Wave Bath Mats
465 - Quickly get a phone representative on the same page you are on now by giving them the quick link ID 465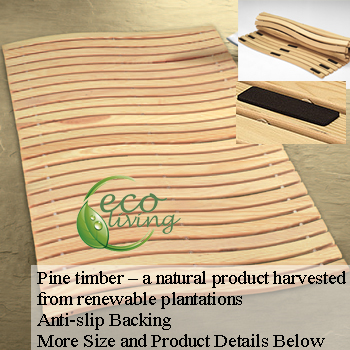 nature
Additional Images
You can view larger images of alternative colors by clicking on a color swatch above.
Click Here: Wave Bath Mats Details
Stock levels are intended as a general guideline, not a guarantee and do not take into account pending orders. More stock is typically available in Europe. Orders requiring stock from Europe usually ship in 2-12 business days.
Coordinated Families
Product Details
(
back to the top
)
Wave Bathroom Mats
Design:
A bathmat made from pine timber for a beautiful ambiance for your bathroom
Height: 10mm / .39in
Designed and produced in Germany
Anti-slip backing provides non slip properties on most surfaces; will not be damaged or worn out if used with underfloor heating
Our ECO-LIVING range meets all the requirements of an eco-conscious collection using renewable resources. Ecologically cultivated natural resources, non-hazardous raw materials and biodegradable fibers are turned into sustainable products.
(
back to the top
)