Bambus Bath Mat
Bambus Bath Mat
463 - Quickly get a phone representative on the same page you are on now by giving them the quick link ID 463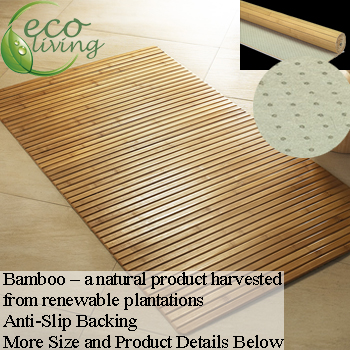 nature
Additional Product Images Gallery
Click on an image to view a larger version. Larger images replace the main image shown above.
Click Here: Bambus Bath Mat Details
Stock levels are intended as a general guideline, not a guarantee and do not take into account pending orders. More stock is typically available in Europe. Orders requiring stock from Europe usually ship in 2-12 business days.
Coordinated Families
Product Details
(
back to the top
)
Bambus Bathroom Mat
Design:
A bathmat made made from real bamboo for a beautiful ambiance for the bathroom
Height: 5mm / .20in
Designed and produced by well-known German brand Kleine Wolke, established in 1968, and is backed by their quality guarantee.
Anti-slip backing provides non slip properties on most surfaces
Our ECO-LIVING range meets all the requirements of an eco-conscious collection using renewable resources. Ecologically cultivated natural resources, non-hazardous raw materials and biodegradable fibers are turned into sustainable products.
(
back to the top
)