Maritim Kids Safety Mats
Maritim Kids Safety Mats
65 - Quickly get a phone representative on the same page you are on now by giving them the quick link ID 65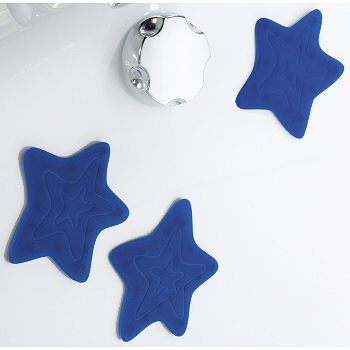 marine blue
6 per pack

white
6 per pack
Additional Images
You can view larger images of alternative colors by clicking on a color swatch above.
Click Here: Mini Rubber Safety Mat Details with Suction Cups
Stock levels are intended as a general guideline, not a guarantee and do not take into account pending orders. More stock is typically available in Europe. Orders requiring stock from Europe usually ship in 2-12 business days.
Coordinated Families
Product Details
(
back to the top
)
Maritim Mini Bath Safety Mats
These kids mini safety mats are designed and produced by well-known German brand
Kleine Wolke
, established in 1968, and is backed by their quality guarantee. and feature the following:
6 mini mats per pack with a starfish design.
Each mini mat measures 4.5in x 4.5in. and made from a very durable, rubber material.
Machine washable in warm water with mild detergent.
Suction cups cover the entire back side of each mini mat for excellent non-slip capability on smooth surfaces.
(
back to the top
)