Birdie Fabric Shower Curtain
Birdie Fabric Shower Curtain
125 - Quickly get a phone representative on the same page you are on now by giving them the quick link ID 125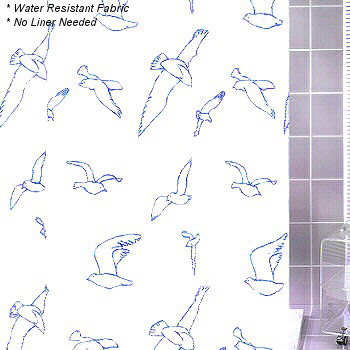 white
Additional Product Images Gallery
Click on an image to view a larger version. Larger images replace the main image shown above.
Click Here: Birdie Fabric Shower Curtain Details
* Stock levels are intended as a general guideline, not a guarantee and do not take into account pending orders. More stock is typically available in Europe. Orders requiring stock from Europe usually ship in 2-12 business days.
Coordinated Families
Product Details
(
back to the top
)
Birdie Curtain
This shower curtain is designed and produced by well-known German brand
Kleine Wolke
, established in 1968, and is backed by their quality guarantee. A luxury, quick-dry and easy-care polyester fabric, as used in many high-end hotels.
Our Birdie shower curtain features deep royal blue seagulls in flight, over a white background.
To help ensure long-life, the Birdie curtain features the following:
Weighted bottom seam
Available 12 eyelet tub width - eyelets are heavy-duty, non-corrosive plastic grommets / eyelets
Non toxic polyester fabric - water and mildew resistant - no liner necessary
Easy-care fabric - wash in warm water with mild detergent and hang dry
(
back to the top
)