Glamour Bath Accessories
Glamour Bath Accessories
365 - Quickly get a phone representative on the same page you are on now by giving them the quick link ID 365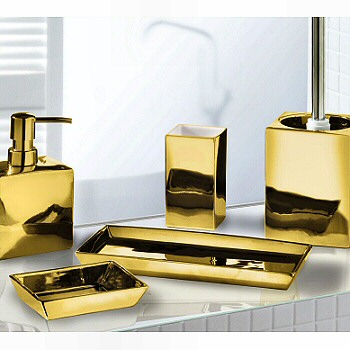 gold

silver
Additional Product Images Gallery
Click on an image to view a larger version. Larger images replace the main image shown above.
Click Here: Porcelain Bathroom Accessory Details
Stock levels are intended as a general guideline, not a guarantee and do not take into account pending orders. More stock is typically available in Europe. Orders requiring stock from Europe usually ship in 2-12 business days.
Coordinated Families
Product Details
(
back to the top
)
Glamour Porcelain Bath Accessories
What an elegant and luxurious look!
Gorgeous high quality pieces. The weight of this design feels expensive but they are so affordable!
The Glamour bath accessory design is made of thick high quality porcelain and the gold and silver finishes are exquisite.
Designed and produced by well-known German brand
Kleine Wolke
, established in 1968, and is backed by their quality guarantee..
Available Sizes:
Tumbler: Square design with the white porcelain revealed on the inside. This piece can also be used as a toothbrush holder.
Soap Dispenser: This rectangular dispenser is sizeable so you are not refilling it all the time plus it is not too big for your vanity top. The pump heads are very well designed.
Soap Dish: This rectangular dish shown in the lower left corner of the product picture has a flared design to the sided which is an elegant feature.
Toilet Brush Set: The toilet brush set is a square design. Both the gold and silver color options have a shiny chrome handle attaches to a smartly designed toilet brush head. The top of the brush is black because it is visible from above. This gives this toilet brush set a much cleaner look after each use.
Color Options:
Gold: Like a gold bar! The mirror finish is beautiful. The dispenser has a matching gold pump head. The gold toilet brush set has a chrome handle.
Silver: Beautiful silver grey. Truly the color of a mirror. Just an amazing finish.
(
back to the top
)