Ethno Bath Accessories
Ethno Bath Accessories
406 - Quickly get a phone representative on the same page you are on now by giving them the quick link ID 406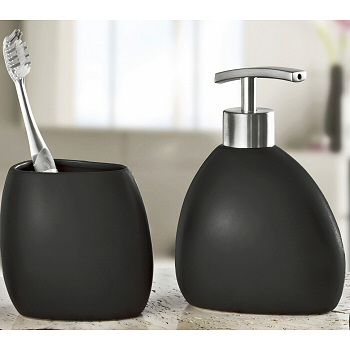 black

white
Additional Product Images Gallery
Click on an image to view a larger version. Larger images replace the main image shown above.
Click Here: Ethno Bath Accessory Details
Stock levels are intended as a general guideline, not a guarantee and do not take into account pending orders. More stock is typically available in Europe. Orders requiring stock from Europe usually ship in 2-12 business days.
Coordinated Families
Product Details
(
back to the top
)
Ethno Bathroom Accessories
The most uniquely designed countertop bath accessories we have ever seen. Smooth matte finish stoneware with soft lines. Feels luxurious and substantial in weight. The finish will also reduce the sight of fingerprints. Made in Germany.
Available Sizes:
Tumbler: Thick stoneware construction with a smooth matte finish. The opening and shape of the tumbler is almost triangular. Really unique and ergonomically designed.


Soap Dispenser: Soft matte finish stoneware with a brushed chrome pump. this dispenser holds 13.5 ounces of liquid soap.


Soap Dish: Soft matte finish stoneware in some what of a triangular design.


Toilet Brush Set: Really beautiful stoneware with soft smooth matte finish.
Color Options:
Black: Matte black finish with soft feel. This stoneware is so soft it is hard to believe it is a hard material.


White: Matte white finish with soft texture.



(
back to the top
)