Static Deco Elements (Static cling film)
Static Deco Elements (Static cling film)
580 - Quickly get a phone representative on the same page you are on now by giving them the quick link ID 580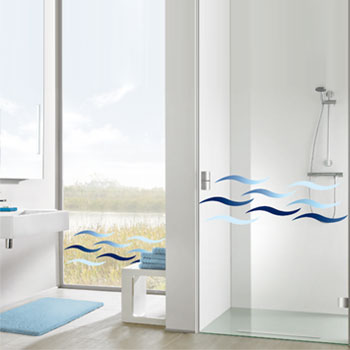 bamboo green

bubble blue 1 deco element

bubble blue 26 deco elements

buddha taupe

butterfly multicolor

chameleon green

daisy multicolor

duckie yellow

flower multicolor

frog green

goldfish orange

lavastone black

ocean brown

shell nature brown

shower blue

stone grey

transparence milky

underwater multicolor

wave blue

white
Additional Product Images Gallery
Click on an image to view a larger version. Larger images replace the main image shown above.
Static cling film for bathroom decoration
Stock levels are intended as a general guideline, not a guarantee and do not take into account pending orders. More stock is typically available in Europe. Orders requiring stock from Europe usually ship in 2-12 business days.
Coordinated Families
Sorry, there are no coordinated families for this family of products.
Product Details
(
back to the top
)
Static cling film for bathroom decoration. These provide a way to customize glass doors or mirrors within your bathroom.
Suitable for any smooth surface
Static cling film without adhesive
Removable without residues
Endlessly reusable
Printed on both sides
Easy to use
Free of any dangerous substances
Phthalate-free
The 5.9x9.25 in (15x23.5cm) and 9.06x13.39 in (23x34cm) sizes feature individually detachable elements. The 9.06x26.77 in (23x68 cm) sizes are a single piece.
(
back to the top
)