Kyoto Bamboo Bath Accessories
Kyoto Bamboo Bath Accessories
403 - Quickly get a phone representative on the same page you are on now by giving them the quick link ID 403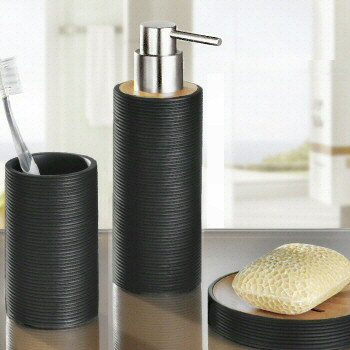 black

white
Additional Product Images Gallery
Click on an image to view a larger version. Larger images replace the main image shown above.
Click Here: Bamboo Bath Accessory Details
Stock levels are intended as a general guideline, not a guarantee and do not take into account pending orders. More stock is typically available in Europe. Orders requiring stock from Europe usually ship in 2-12 business days.
Coordinated Families
Product Details
(
back to the top
)
Bamboo Bath Accessories
Luxurious contemporary bamboo countertop accessories. Ribbed design for non slip use in your bathroom or kitchen. Eco-friendly bamboo is not only a sustainable choice but functional and beautiful. Designed and produced by well-known German brand
Kleine Wolke
, established in 1968, and is backed by their quality guarantee..
Available Sizes:
Tumbler: Completely made of durable long lasting and sustainable bamboo. The inside is the same color as the outside.


Soap Dispenser: Durable chrome pump head attaches to the bamboo body of the dispenser. The bamboo dispenser has an intricate ribbed design to make it non slip. The top surrounding the pump is natural in color and the outside body of the dispenser comes in matte white or black.


Soap Dish: This round bamboo soap dish has a natural color on top and is available in either matte white or black. There is a clever opening to there is no water build up on the surface of the dish.


Toilet Brush Set: You will NOT want to hide this toilet brush set behind the toilet. It is gorgeous. A very tall body with natural bamboo top with the body in either matte white or black.
Color Options:
Black: Just stunning. Matte black finish is subtle and elegant.


White: Matte white will add just the right note to your modern bathroom.


(
back to the top
)