Danzig Bath Accessories
Danzig Bath Accessories
607 - Quickly get a phone representative on the same page you are on now by giving them the quick link ID 607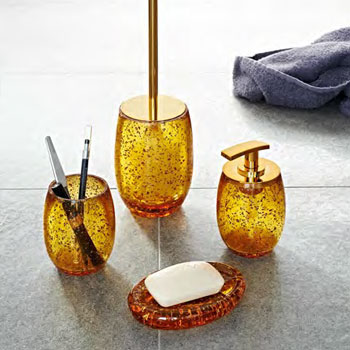 gold/amber
Additional Images
You can view larger images of alternative colors by clicking on a color swatch above.
Click Here: Danzig Bath Accessories
Stock levels are intended as a general guideline, not a guarantee and do not take into account pending orders. More stock is typically available in Europe. Orders requiring stock from Europe usually ship in 2-12 business days.
Coordinated Families
Product Details
(
back to the top
)
Danzig Bath Accessories
This set of bathroom accessories are semi-transparent with an amber/gold colour, which make them look very luxury and sparkling.
These beautiful and elegant bath accessories are ideal bath set for a fashion bathrooms. Use them to add visual impact to your bathroom!
The size options include a soap dispenser and a tembler.
The pump is made by stainless steel.
Designed and produced by Ridder in Germany. Ridder is a family-owned company established in 1946. They offer a high quality standard, and a 3 year quality guarantee.
(
back to the top
)