Extra Long Shower Rods: Bridging the Gap
When is a shower curtain rod not a shower curtain rod? The answer is when it's not the right size…rendering it useless. Be careful to measure before you buy which will save you time, money and the frustration.
Here at Vita Futura we have a whole range of extra long shower rods which have the quality to ensure they are going to stay put for some time to come.
Often many cheaper varieties of extra long shower rods tend to be of flimsy construction and require you to twist them into length and in the end can slowly untwist and fall down at the most inconvenient time. And, really, having a cold, wet shower curtain drape itself around us while showering is the last thing any of us wants!
Extra long shower curtain rods: length and strength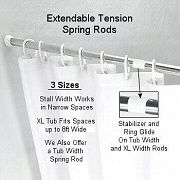 Our adjustable shower rods can actually extend up to 8ft, giving you plenty of length for bridging any gaps and ensuring the rest of your bathroom remains dry. All our shower curtain rods – whether extra long, stall width or hook-free, are produced with non-corrosive materials so you put that rod up with the confidence that you're not going to have to replace it for quite some time yet. Not only that, but it will remain looking as good as new.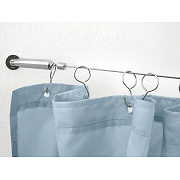 For those who prefer the Euro-styled wire shower rod, these are available with up to 16ft of stainless steel cable to hang your curtain on.
Some of you, however, may be restricted in the type of shower rod you can buy. Those with slanted ceilings or walls for instance need an angled shower rod – and luckily we can help out here too with our angled wall mounts to make sure your curtain stays put.
Extra long shower curtain rods: design and looks
Those who crave a minimalist no-fuss look for their bathroom will probably be interested in the hook free shower curtain rods where the curtain attaches to gliders on the backside of the rod.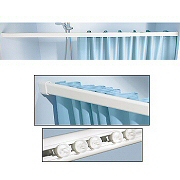 Extra long shower curtain rods: additional uses
At the risk of repeating ourselves, when is a shower curtain rod not a shower curtain rod? Answer – when it's a room divider. Yes, using an extra long shower rod is an excellent way of splitting a large room in half – or even a small one for that matter.
Use it to set up a small private dressing area when you have two people sharing the same room. Or you could even just set up a shower curtain rod to hide an area of a room that's a bit unsightly until you get round to fixing what's needed. Then again, perhaps you just fancy jazzing up your room by hanging up some incredible or dramatic fabric? The only limit in this respect is really your imagination.
Meanwhile the great thing about designing or altering a room using an extra long curtain rod is that it's as easy to remove as it is to set up once you fancy a change - as we inevitably do. But then, as women, that's our prerogative.