Add the Wow Factor to your Bathroom without Breaking the Bank
Bathroom a bit boring?
Are you fed up with living in a beige world or have that rug that you bought decade ago, finally is giving up the ghost?
Well, sit back for a minute and consider the following:
Q What's the best – and least expensive – way to really jazz up your bathroom?
Go out and buy some swanky marble floor tiles?
Replace your current bathroom furniture?
Swap out the old tub for a shower unit.
A Add smart, striking bathroom accessories in a stunning color
It is simple, inexpensive and fun to do - you'll wonder why you never thought of it before.
But before you rush out and buy a whole load of new items for the smallest room in your home, please consider the following:
Choose one accent color
The way to do this is to make sure the colors of your accessories all coordinate.
They don't have to be a perfect match but certainly not far off in terms of shade.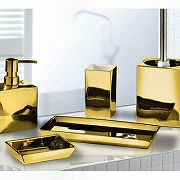 It's best to get a couple of accessories that are a perfect match or even a whole bathroom accessory set (which would certainly cut down on the shopping) then building the other accessories around them.
Types of bathroom accessories
So, what sort of accessories are we talking about? There is a whole host of items you could choose. You don't need all of them of course. Just pick and choose at your leisure. But please don't buy clashing colors – that's going to ruin the carefully coordinated look you're aiming for.
A funky matching soap / lotion dispenser (we have good gripping non-slip dispensers here at Vita Futura) and an easy to clean waste paper basket is a great start.
We're guessing you have tiles on your bathroom floor and because of this it's a good idea to buy break resistant bathroom accessories. These aren't difficult to find and will save your tiles as well as your eardrums when they fall onto the floor (as they inevitably will, especially with kids around).
And who'd have thought a toilet brush could be so funky and fun?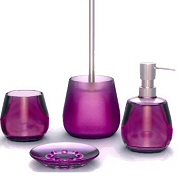 Shape of your bathroom accessories
This isn't as important as getting the tone of your accent color to coordinate, but it does matter to an extent. For instance if your waste basket, toilet brush and soap dispenser are all rounded then buying a geometric soap dish isn't going to cut it (although it'd look great with a square waste paper basket, toilet brush etc…).
Bathroom accessories and texture
Accessories can be another way of adding a bit of class to your bathroom. You know how fashion magazines say mixing high street clothing with one really good designer item enhances the whole look? Well, the same is true for your bathroom. Invest in some quality accessories such as porcelain tumblers or marble soap dishes.
Remember too that there's your shower curtain and floor rug, even your towels and window blind, that you can have fun coordinating your accessories with. You don't have to go out and buy them all at once though – just build up your bathroom accessories over time.
The secret is to get started.
So why are you still sitting here reading this?