Super Size My Bath Rug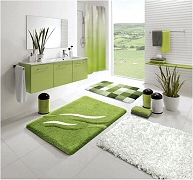 Colorful rugs are a great way to update your bathroom. But you don't want to just go out and buy any old rug.
The size of the rug, color and pattern all have to be taken into account as well as the actual material - it'll need to be able to withstand a lot of foot traffic, all that humidity, wash well and stains should be easy to remove.
Get the right size of rug
It's true that in many new construction homes, bathrooms are increasing in size. That's because more of us are realizing what a sanctuary a bathroom can provide as our lives get correspondingly busier every day. There's nothing nicer than having the bathroom to yourself to chill out while the rest of the family buzz around the house outside that locked door.
However that over-sized bathroom often causes a problem when it comes to furnishing it with a rug. Standard size rugs will look ridiculous and a bit lost whereas two standard size rugs can often make the room look 'patchy.' The answer then is often to buy an extra large bath rug and a matching smaller one.
And please don't make the mistake of going out and buying an area rug (3 x 5ft or larger) as typically area rugs are not designed for bathrooms causing problems down the line (possibly quite soon). Area rug material won't dry quickly (mildew equals smell), won't clean easily and the rug will tend to absorb stains - (think of all those expensive and gooey face creams, shampoos and lotions for instance).
Here at Vita Futura we offer a range of luxury bathroom rugs which are specifically designed for humid, high traffic environments, they also come in extra large sizes close to 3ft x 5ft and, in fact, we can produce custom sizes, making unique shapes, round or a rectangular custom bath rugs up to 10 ft in length and 5 ft wide.
Make sure the fabric is spot on (not literally!)
Our rugs come in a range of fabrics such as 100 percent cotton, organic cotton, microfiber, bamboo and polyacrylic.
100 percent cotton extra large bath rugs. Beautifully soft and warm under your feet, these rugs are often reversible and all are easy to wash.
Organic cotton extra large bath rugs. Eco-friendly but hardly dull. Big, fluffy and with coordinating towels, you'll love these.
Microfiber extra large bath rugs. Soft and with a non-slip backing, our microfiber rugs are particularly popular with customers since they're so easy to clean and last for years.
Bamboo extra large bath rugs. Rather glamorous and super absorbent these bamboo/cotton blend rugs are quick drying and, of course, they're completely eco-friendly
Polyacrylic extra large bath rugs. Our soft and durable polyacrylic bathroom rugs are great for high humidity environments such as a bathroom. Like the microfiber rugs these also have a reassuring non-slip backing.
Often the rug is the focus for the accent color in a bathroom. But what if you have two rugs? Well, the idea is to make them match. Have one single colored and the other patterned (but make sure the colors coordinate).
The single colored / patterned combination can often make a very stylish addition to an otherwise nondescript bathroom. You could also think about playing around with shapes like an oval rug alongside a rectangular piece. Get matching accessories to the rug color and you're more than good to go!
Another plus with an extra large bath rug and a smaller version is that two rugs are easier to clean. Now isn't that a blessing folks?