Elongated Toilet Seat Covers : The Search is Over!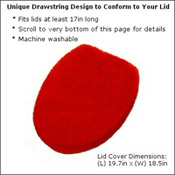 It's a never ending discussion as to whether or not the toilet seat should remain up or down - usually depending on the gender of the last visitor or the location.
Nowadays, it seems there's a more unisex dilemma – how to find a cover for the toilet lid which actually fits your elongated lid.
So many toilet lids these days are of the elongated variety rather than round as in the past. Regardless of your preference – or the shape of your bottom for that matter – elongated lids seem to have won the popularity contest.
But the makers of toilet seat covers haven't quite caught on to this fact yet. And that's why you'll find the occasional toilet cover in a friend or family member's home stretched to the max and looks a bit threadbare too.
Not all elongated seat covers are equal
Enter the elongated toilet seat cover. A clever contender in the world of toilet seat covers – or so it appears at first.
The difficulty with many of the so called elongated lid covers in the market is the design hasn't been thought out properly.
Worse still, they are fitted with elastic which can pucker meaning the cover is liable to fly off the toilet lid at a moment's notice. Not fun for you – and awful for your guest who ends up spending 15 minutes in the smallest room instead of the customary five trying to get that lid cover back on again.
Go for the draw (string)
So, in order to stop embarrassing your guests and keeping your own frustration levels in check, you'll want to get a densely woven elongated cover which is going to fit perfectly in the first place and is heavy enough not to ping off.
Your elongated lid cover should also have - and here's the really clever part – drawstring fastening instead of elastic. That way it'll stay put! Here at Vitafutura.com we do like an elongated toilet seat cover that knows its place.
Our current German-designed range of toilet seat covers are all 19.7'' x 18.5'' meaning they're going to fit toilet lids that are at least 17'' long.
They're produced in a variety of colors - from aqua blue to striking magenta and moss green - and individually tufted from long wearing, durable polyacrylic yarn. And the very best part? They are machine washable (hooray).
There – we hope that's solved that particular toilet seat dilemma for you. As for the position of the actual lid, (up or down) sorry but we just don't see an end to that one folks.