What Is That Smell?
Remember that 'plasticy' smell as a kid when you pulled out your brand new pool toy or beach ball in the summer months? It was pretty distinctive and almost marked the start of summer really. And, of course, it always conjures up nice nostalgic memories. That's all very well but in hindsight it would have been so much better had there been no smell at all.
Why? Well in the years since those halcyon days, researchers have revealed that what we were actually smelling as kids was the result of toxic gasses (and which are particularly prevalent when something made of PVC is heated up – such as in a shower or bath).
We're sure you can see where we're coming from here when we say a PVC-free shower curtain is not just necessary, but absolutely essential for your family's health. And actually for some individuals like those who are chemically sensitive, there is no choice – PVC-free is actually the only way to go.
What's a PVC-free shower curtain made from then?
Here at Vita Futura, PEVA has taken the place of PVC in our shower curtains. This is an environmentally friendly material which is non-chlorinated and lightweight. It doesn't give off any gasses when heated (unlike vinyl shower curtains). You may also be reassured to learn that the curtains we sell are all produced in Europe and to high certification standards.
We're delighted to add that because of this commitment to eco-friendly and non-toxic shower curtains you can find us in National Geographic magazine's Green Guide.
A PVC-free shower curtain doesn't need to be boring
Quite the opposite really as you can see by having a quick look through our current selection.
We have cute shower curtains designed for kids, stylish curtains to coordinate perfectly with the rest of your bathroom: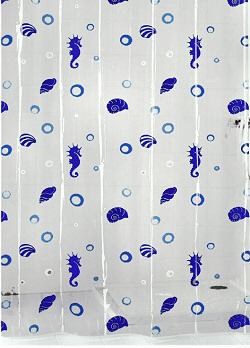 and PVC-Free curtains with a retro feel: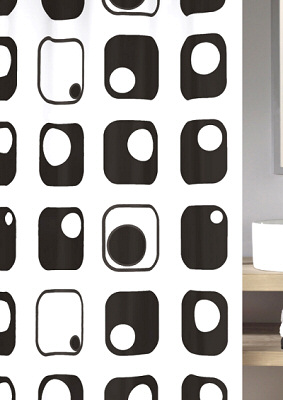 Other non-toxic bathroom shower curtain ranges:
Don't think though that if you're looking for a non-toxic bathroom shower curtain that you're restricted to just choosing from our PVC-free range. Nope, that's because you'll find the polyester fabric shower curtains are likewise free from any harmful toxins ready to pollute your bathroom environment.
These curtains which - like the PVC-free variety - come in a great choice of designs are, of course, are water repellent and available in extra tall and wide sizes (78.7 inches and 94.5 inches respectively). They're also extremely durable (they retain their color beautifully) and are going to be around for a long, long time so please choose your design wisely.
Incidentally, you don't even need a liner with them. This is a great example of a colorful, non toxic fabric shower curtain called Point:
Additional non-toxic bathroom accessories:
But it's not only when it comes to shower curtains that we can supply a safe environment for your family. Take a look at what else we have to offer accessory wise: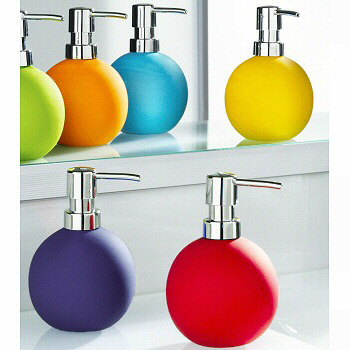 But it's not all about bright colors. These sophisticated black accessories (below) would look great in a black and white or male-only bathroom. We also love the contrast with red.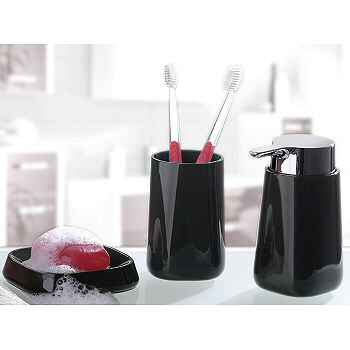 These incredible brightly colored German-made soap / lotion dispensers (see below) are created from porcelain and have a matte non-slip rubberized coating. Chose from five fabulous colors designed to bring some sunshine into the bathroom.
And finally, what do you think of these new arrivals: bathroom suction hooks? We think they're fun, fab and can't wait to put a few up in our own homes. Kids will love the Baby Bird and Butterfly Lisa designs.
But you don't just have to restrict them to the bathroom. Use them to hang up jackets etc in a bedroom closet too. After all, anything that's going to make them hang up their outdoor jacket has to be worth a try…