Bathroom Decorating Ideas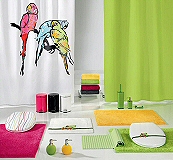 It's the room we visit first thing in the morning and usually last thing at night. Our bathrooms are pretty crucial to our well being when you think about it. So if we're spending so much time in there shouldn't our smallest room be a place that makes us feel good?
Find one anchor point and build around it
If your bathroom has white fixtures, neutral walls and flooring then you're going to want to add color and a little of your own personality. But please don't go out and buy every bathroom accessory that tickles your fancy. That is the fastest way to drive yourself mad!
Buy one "stand out" shower curtain or bath rug then choose the rest of your accessories to coordinate by picking out one accent color in the curtain or rug that really appeals to you.
For instance, this bold parrot themed shower curtain is pretty groovy, we're sure you'll agree. So, you don't want any accessories clashing with it. What you do want is to bring out a certain color in that curtain such as solid bright yellow, or maybe even green tone and then buy corresponding accessories.
It's about creating drama without going overboard. In other words, buy one item for your bathroom that you love then drape the others around it in a color coordinating sense. That way there's no clashes and really, it's not rocket science. Just a matter of color coordinating without getting too overloaded with pattern.