Queen Fabric Shower Curtain
Queen Fabric Shower Curtain
415 - Quickly get a phone representative on the same page you are on now by giving them the quick link ID 415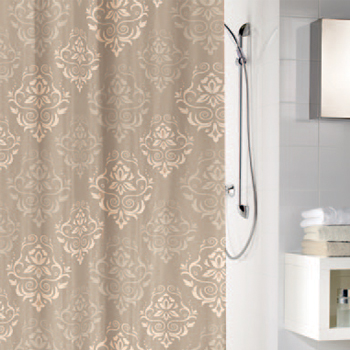 Additional Images
You can view larger images of alternative colors by clicking on a color swatch above.
Click Here:Queen Fabric Shower Curtain Details
* Stock levels are intended as a general guideline, not a guarantee and do not take into account pending orders. More stock is typically available in Europe. Orders requiring stock from Europe usually ship in 2-12 business days.
Coordinated Families
Product Details
(
back to the top
)
Queen Fabric Shower Curtain
This shower curtain design requires no liner and is designed and produced in Germany. Quick-dry and easy-care polyester fabric, durable and long wearing.
Design and Color:
A classic and elegant pattern reminiscent of bygone times and royalty.


To help ensure long life, our curtain features the following:
Weighted bottom seam
12 heavy duty, non corrosive plastic grommets /eyelets
Non toxic polyester fabric - water and mildew resistant. No liner necessary
Easy care fabric wash in warm water with mild detergent and hang dry
(
back to the top
)